Kick-off: 5pm BST (UK time)
Group A, World Cup Game #2
- See more at: http://www.tsmbrazil.com/2014/06/WorldCup-Game2-MEXCMR_13.html#sthash.P8bOtK6q.dpuf
Live: Germany 1 - 0 Argentina
How it works: This page is programmed to refresh every 30 seconds. Manually refresh the page here for updates.
More:
View our Twitter for exclusive live coverage
Time zones: Timings are in BST (British Summer Time, GMT+1). Now that the game is underway we do it as minutes into the match.
Updates
Due to a cut off in the TSM HQ we were unable to load the remainder of the live blog.
92 mins: Palacio on the break again but plenty of time for Germany to get back as Palacio doesn't control well. Aguero breaks down the left but his shot passes the face of goal.
91 mins: Extra-time is off to a flyer! Andre Schurrle spearheads the German break that sees his shot parried back out by an awakened Romero. Argentina look to break down the other end but Boateng cllatters in the process.
90+3 mins: We're going to extra-time.
86 mins: LeBron is in the house and has captured some video footage...
85 mins: Last throw of the dice for Sabella? Fernando Gago on. Meanwhile, Low is looking to put on Gotze.
83 mins: True beauty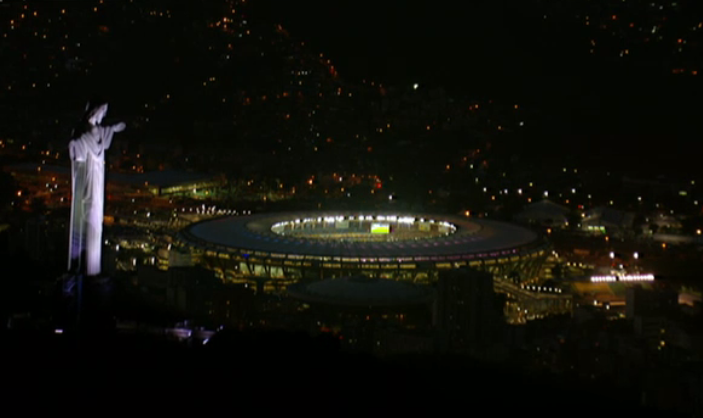 81 mins: Kroos' runs onto a pulled ball back from Ozil but it trickles wide.
80 mins: Replenished. Howedes contests a foul in the box but no penalty given. Messi troubling again but its still goalless.
70 mins: Please bare with me as I quickly open my fast, I'll still be watching
67 mins: Now this is really cool.
They're even watching this game in space! http://t.co/soTm6ThGvm #GER #ARG pic.twitter.com/uewYdB5CWj
— TheSportMatrix (@_TheSportMatrix) July 13, 2014
65 mins:
Slow and physical now. Some fouls flying around but just needing a spark to blow the game open.
64 mins: Javier Mascherano booked for lunging in on Klose.
61 mins: Mesut Ozil can't hit past Andre Schurrle's cross.
55 mins: Neuer races out to punch away a ball and in the process knees Higuain - who is flattened, then livid, then accepts the apology, kinda.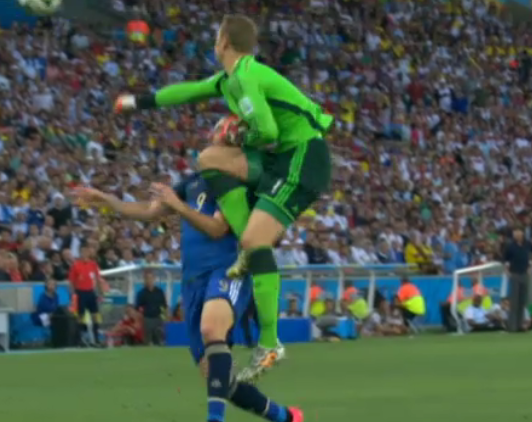 50 mins: Sunset in Rio de Janeiro. Stunning.
47 mins: Argentina open up with two early opportunities. First, Higuain strikes across but is offside, then the flag stays down for Lionel Messi but it runs away from the face of goal.
46 mins: Sergio Aguero replaces Ezequiel Lavezzi over half-time.
46 mins: Second half all set.
Half-time: Both sides have had their fair share of action so any alleged defensive invincibility is no more. All to play for, a goal surely must be coming.
Half-time: That's it for the first half. Here's your half time read
45+1 mins: HITS THE POST! Howedes rattles the woodwork from Toni Kroos corner.
43 mins: Germany finishing strong - Muller's cross flies out and Romero captures a save.
41 mins: Thomas Muller displaying some dramatics. He's down again. *Dive*