Image: ICC-Cricket.com
The Cricket World Cup is almost upon us.
Will India be able to defend its crown? Which side will prove to be the toughest opposition? Who will be that one player to bring that X-factor into his team? Will the under-rated teams bring in an element of surprise? Most importantly, which team has the capability of making it big this edition?
Well, leading into the global extravaganza, the Cricket World Cup 2015 such questions must be boggling in cricket-crazy minds. With just a few days left before the cricket fever strikes, the TSM team is here to give you an insight into the fourteen sides, who will be battling it out Down Under for the Cup of glory.
The pools were revealed in July.

Image: Mirror.co.uk
Pool A
Australia: Fiery fast bowlers, aggressive top order batsmen, solid middle order,spot on fielding, home support and favorable conditions, the Kangaroos seem to have it all this edition. The four time world champions are firm favorites this year. David Warner's aggression at the top, followed by the feisty Smith and Maxwell in the middle order and the tail hitting the ball too, their batting seems to be at its prime. The bowling also is not too far behind with the likes of Mitchell Johnson and Mitchell Starc. The all round of James Faulkner and Mitchell Marsh will be an added advantage. The injury of Michael Clarke remains a concern. If you need to talk about the perfectly balanced side, its the Aussies. Can they claim the title for the fifth time? Current ranking: 1st
Australia have clicked into gears in the runup to the tournament.

Image: India.com
Sri Lanka:
Be it talent, experience or potential Sri Lanka seem to be a fairly balanced side going into the World Cup. All they would be eyeing upon would be to break the trend or jinx of crashing out in the knock out stages and surrendering to the opponents in the weirdest ways. More than anything else they will have to play it for pride this edition and make it a memorable end for the duo of the Lankan greats, Mahela Jayewardene and Kumar Sangakkara, who are playing their last World Cup. When it comes to the players who can make it count, the all-round fast bowling as well as hitting option of Thisara Perera is a great asset to the team. Their batting department with the likes of Sangakkara who is in his peak form as well as Mahela & Dilshan seems to be pretty solid although the opening pair still remains a concern. The ankle-injury of star player Lasith Malinga is still in doubts. Captained by Angelo Matthews, the Lankan can prove to be serious contenders for other teams. Current ranking: 4th
What can the Sri Lankans achieve in the World Cup?

Image: ICC-Cricket.com
England:
A previous record of never making it to the knock-out stages except the 1992 final, and also losing to sides like Ireland and Bangladesh in the previous edition of the World Cup, the Three Lions are an uncertain side when it comes to pressure tournaments like the World Cup. However their decent performance in the recently concluded tri-series is definitely going to boost up the team's and their fans morale. With Garry Ballance and Alex Hales back in the top order and bowlers like Steven Finn, Chris Woakes and James Anderson in form, England can fancy their chances. Even Ian Bell and Joe Root make the middle order look pretty strong. If they are determined to get their maiden cup then they need to go out with all guns blazing this year. Current ranking: 5th
Will the English resurgence carry them to a World title?

Image: SkySports.com
New Zealand: The Black Caps have never failed to impress one in the World Cup over the past few editions. However, they have missed out in the pressurized knock-out stages, semi-finals always to be precise, of the tournament. This year, they are co-hosting the tournament and the pressure will be no less. They need to excel and bring the best out in pressure. They possess a fine mixture of experience and young talent in their side. Fiery batsman like Brendon McCullum, Corey Anderson and Kane Williamson their batting is quite good to go. Their bowling also has a tinge of experience with Daniel Vettori coming back to the side. The motivation of the home crowd as well as having the ability to beat the best with their current blazing form, New Zealand have the potential of racing their way towards the cup provided they break the semi-final jinx. Current ranking: 6th
New Zealand are looking to use their home soil advantage.

Image: ICC-Cricket.com
Bangladesh: The evolution of Bangladesh as a limited overs team to a Test playing nation has been characterized by nothing short of hunger and determination to excel. They have managed to bring in an element of surprise in the World Cup's but have lacked the magic to make their way through. This year too placed against teams like Australia, Sri Lanka, New Zealand and England it will be an arduous task for them. With talented and experienced players like Shakib-Al-Hasan, Mushfiqur Rahim, Captain Moshrafe Mortaza they can hope of a turn around but it will require some serious hard work and luck. The team comprises numerous talented youngsters too, who if fire at the key moments can make the dream of at least making it to the Top 8, come true for the Bangladeshis. Current ranking: 9th
Will the Bangladesh side produce some miracles?

Image: ShopNobaz.com
Scotland:
Making
their 3rd
appearance in the World Cup, the Scots are a cricket team which hasn't been heard of much since the very beginning. They qualified for this edition by finishing on top of the Super Six Qualifier Table, in New Zealand in 2014. It will be nothing short of an uphill task for this side because of quality opponents in their pool as well as their inconsistent form. If the Preston Mommsen captained side really wants to make it big, unlike the previous editions where they returned without a single win, players like Richie Barrington will need to put up an inspiring show. He is the only Scot to have scored a T20I century, however he lacks consistency. Current ranking: N/A
Newbies Scotland with a lot to show.

Image: CricketScotland.com
Afghanistan:
A nation which is in spotlight for everything but cricket, has had a motivational journey as cricket team over the years. Making their maiden
appearance
in the World Cup, the 11th ranked side consists of a players with young and fresh talent. We say so because 18-year old opening batsman Usman Ghani, the youngest player this World Cup belongs to the Afghan side. Scoring a
pleasant
118 vs
Zimbabwe
, a test playing nation, he holds the potential to lead his side to victory on his day. All in all if the Afghans believe and are
determined
enough that they can make it count, then be ready to expect an element of surprise from them. Current ranking: 11th
Are we in for an Afghan surprise?

Image: Zee News
Pool B
India: The defending champions, belong to that country where the buzz of the sports has no limits and same goes to the talent and potential which the team has, unlimited. The past few months have gone past, without a single win for the Blue Caps Down Under. Many might have lost hope, but one can't just write off this team. It might lack the experience of Tendulkar, Sehwag, Zaheer Khan, Yuvraj, Gambhir and others, but the youngsters are trying their level best to fill in the shoes. With Rohit Sharma scoring a brilliant 150 in the warm-up tie, Rahane scoring consistently and signs of Dhawan and Raina returning to form the batting is good to go. India's star batsman Virat Kohli may not seem to be scoring, but come the World Cup you expect this talented lad to fire. The bowling which still remains a concern, should buck up with the likes of Yadav, Shami, Bhuvneshwar and Mohit Sharma. They aren't at their peak but if it's their day then expect a cracker of a game. Can they not give it back? We have to watch out! Current ranking: 2nd
Will the Indians be able to defend their crown?

Image: Getty Images
South Africa: If one is looking for another perfectly balanced side like the Aussies, then the Africans seem to tick all the boxes. However this time, all they would want to shrug off, would be their title of 'chokers', which they have been assigned because of the strange ways they've explored to oust out in the previous editions. This time, yet again they have a team with plethora of talent. Big names which hardly fail to fire. An amazing pair of Quinton de Kock and Hashim Amla at the top, followed by AB de Villiers, the newest cricket superhero who scored a blazing 100 of just 31 balls along with Miller and Faf du Plessis, their batting seems to be magnificent and solid. The bowling to comprises giants like Dale Steyn, Morne Morkel also Wayne Parnell and Vernon Philander. If the invincible form continues, luck goes in their favor and if they are cool headed enough to perfectly execute their plans then the maiden triumph is not too far. Current ranking: 3rd
There's a chance for the South Africans.

Image: CricketCountry.com
Pakistan: It is that one cricket nation which has gone through a lot of mental stress over the years, for not getting a chance to play at home, but this hasn't restricted them from growing and achieving as a team. As one may agree, Pakistan has been one of the most inconsistent teams and which is the reason why they have not won the title since 1992. They have the talent and experience but always their seems to have been a lack of application from either of the departments. However this time they would be determined on stepping each foot the right way. Coming to the team, their strength, the bowling attack comprises names of Wahab Riaz, Shahid Afridi, Ehsan Adil and Mohammed Irfan. The batting too has the much needed experience of greats like Misbah ul Haq and Younus Khan mixed with the young talent of Ahmed Shehzad and Umar Akmal. The removal of injured Mohamed Hafeez can be a disadvantage, but this is the team which can overcome all odds. Current ranking: 7th
Boom boom?

Image: ICC-Cricket.com
West Indies: 'Invincible to Inconsistent' is the phrase which might suit the West Indies the most. The days of the Lloyds and Marshalls are now history, while the present of the Caribbeans is fearful, not for the opposition but for the team itself. Leading into the World Cup, their squad doesn't have names like Pollard, DJ Bravo or Narine who used to form the core of the team. Their omission has been quite a shock for everyone. In terms of what they possess, all the weight lies on big match winners like Gayle and Samules. The bowling includes Andre Russell, Kemar Roach and captain Jason Holder. If they really want to prove a point, they got to stick together as a team, forget what is going on off the field because they do not lack talent and as the saying goes nothing is impossible. Current ranking: 8th
A new-look West Indies have an uphill climb.
Zimbabwe: A team which is known for producing players like Campbell, Fletcher, Andy Flower today seems to be a bunch of quite unfamiliar players. Their bowling lacks experience with new bowlers like Tinashe Panyangara and Tendai Chatara but Prosper Utseya can add that factor to the line up. Their batting definitely has names like Brendon Taylor and Craig Ervine, but to prevent this tournament from turning out to be a terrible experience they will require enormous amount of hard work and self belief their approach and of course a bit of luck. Current ranking: 10th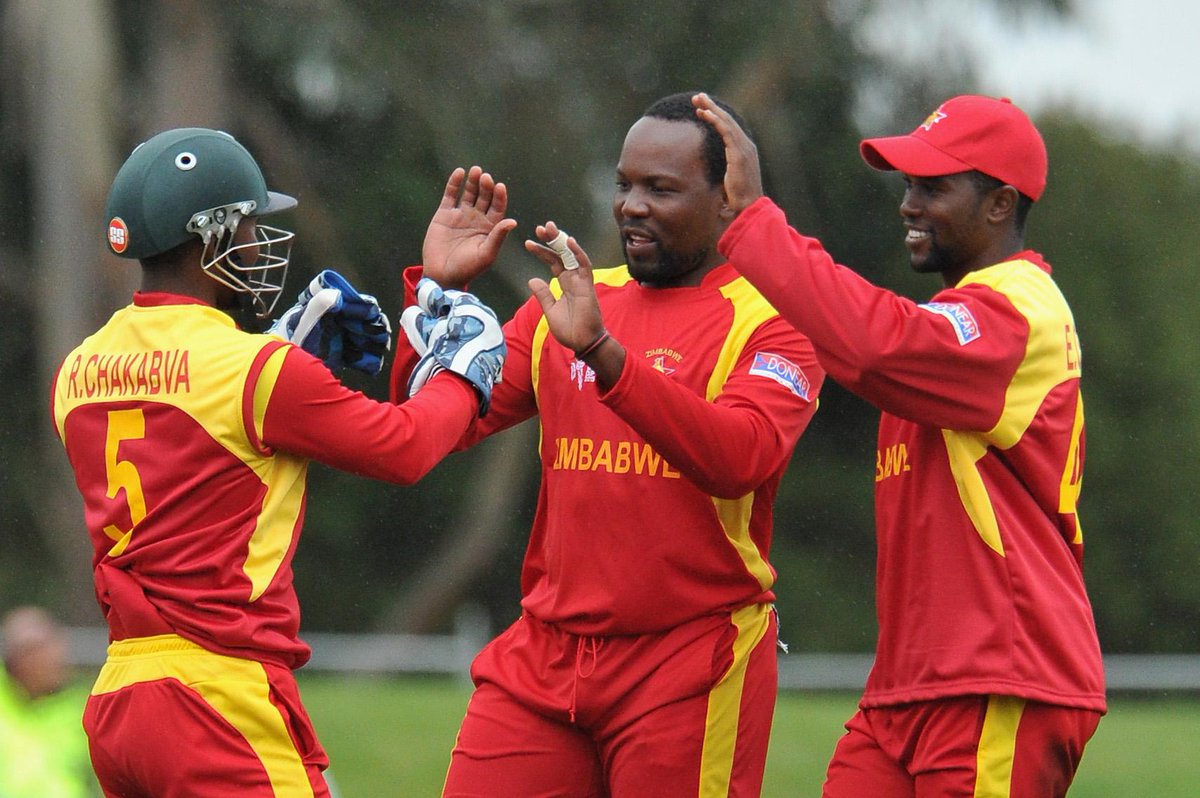 Zimbabwe are one of many underdogs in the tournament.

Image: Zimbabwe Cricket
Ireland: Ireland is that no test cricket playing nation which has managed to make their third consecutive appearance in the World Cup. This team is one which has managed to surprise and also defeat nations like Pakistan, England, Bangladesh and Zimbabwe, who play test cricket, in the previous World Cup tournament encounters. No cricket fan can afford to forget Derek' O Brine's racing century against the English in the last edition. They have the talent, they have the experience of captain William Potterfield and most importantly the ability to rise to the occasion and make it big. This season too, you should be rest assured to expect some tricky surprises from the Irish who have the hunger of proving themselves. Current ranking: 12th
Some luck of the Irish is needed.

Image: RadioSport.co.nz
UAE:
After a gap of some two decades, the United Arab Emirates return to the tournament. They make their third appearance in the World Cup, but globally are not known much as a cricket playing team. Some standout performances in the qualifiers last year, barring a defeat to Scotland, they took the fourteenth and final spot in the tournament in some courageous fashion. Mohammad Tauqir will captain the side, while talisman Khurram Khan will also contribute some much-needed experience. It will be nothing short of an uphil task for them but the fans would hope of at least a competitive approach. - Current ranking- Nil.
Upset on the cards?

Image: ICC-Cricket.com
***
Want to make sure you're right up to date with all the scores at #cwc15? Follow @ICCLive for updates! pic.twitter.com/y7taeDT6KV
— ICC (@ICC) February 11, 2015
Poll: Who will win the 2015 Cricket World Cup?
Cricket Officials as well as retired and current players unveiling the 2015 Cup.
Image: Getty Images
The stage is set. The teams are ready. So, its time then that you embrace yourself for the mega event and its fever to strike. Put on your jerseys and get ready to support your favourite team. A month and a half of some wonderful cricket action awaits and don't miss a bit of it. May the best team win!