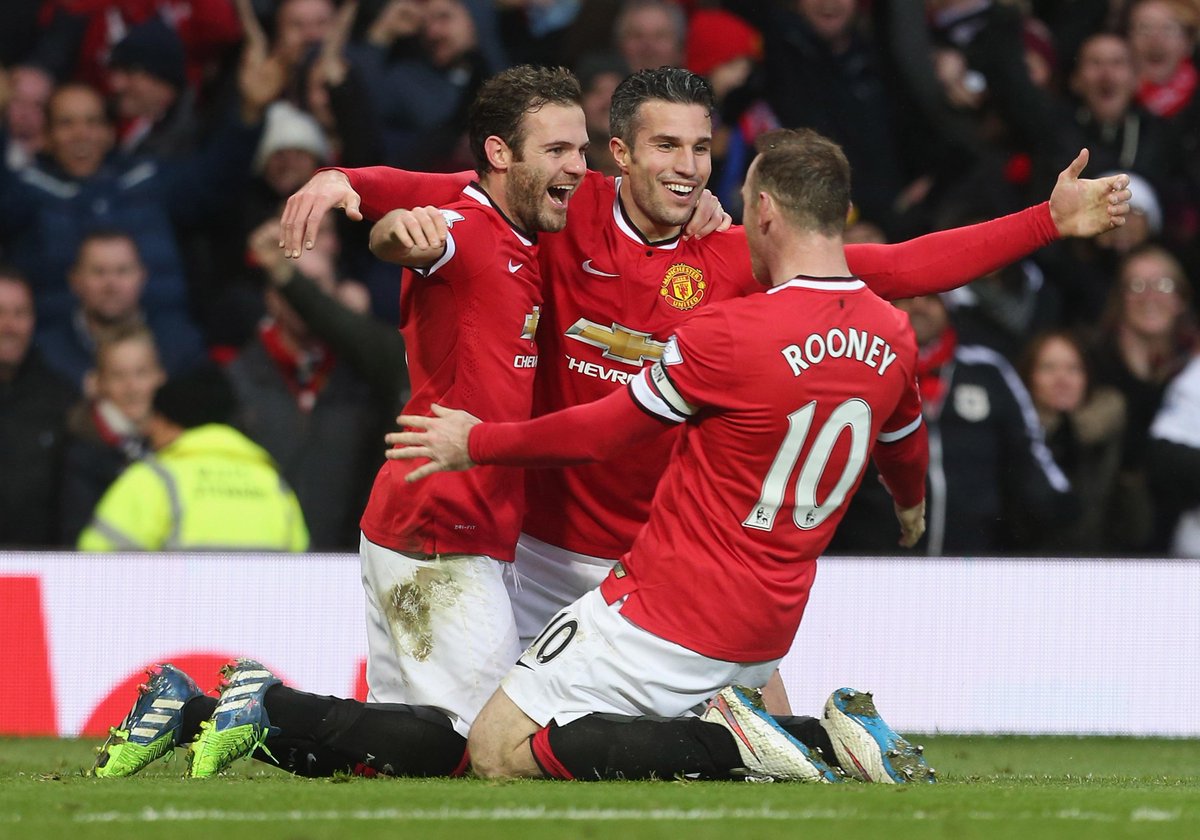 Tremendous trio: Juan Mata, Robin van Perise and Wayne Rooney embrace together.
Manchester United 3 - 0 Liverpool
Wayne Rooney (12'), Juan Mata (40'), Robin van Persie (71')
Barclays Premier League
Sunday 14 December 2014
1:30pm GMT Kick-off
Old Trafford, Manchester, England.
Referee: Martin Atkinson
Matchweek #16
Goals from Wayne Rooney, Juan Mata and Robin van Persie were enough for Man Utd who cruised past a hard lined Liverpool in arguably the biggest Premier League fixture contested at Old Trafford.
Old Trafford was revved up in anticipation of the Barclays Premier League's biggest season fixture; Manchester United, whom are on a five game winning streak against Brendan Rodgers' men who are in desperate need of a victory.
The Reds' game philosophy was clear, pressure United and attempt to snatch an early goal. Lallana romped down the left, but the charging Phil Jones lunged in recklessly and conceded a free kick, which did however come to nothing.
James Wilson announced his intentions of the game, as he blistered through the centre into a diagonal direction towards the by-line until Skrtel covered well and thwarted the 19-year old from counter attacking.
Young's lackluster back pass directed to Evans almost fed Sterling into a one-on-one face-off with De Gea but United's Irish-born defender recovered the loose ball in time to prevent Sterling's ambitious run.
Liverpool's positive start was cancelled out by the captain Wayne Rooney on 13 minutes. Right wing back Valencia left Allen for dead and scampered down the flank, where he would approach the penalty box and cut back to Rooney who emphatically slotted home past a directionsless Brad Jones who was positioned to his right, opposite the United and England skipper's left sided strike.
Rodgers' men reacted somewhat well, as they broke down towards United's penalty area several times but just couldn't find gaps through to really test De Gea.
Sterling romped past a standstill Jones and fired a shot at inform Spanish keeper De Gea who repelled his shot away for a corner.
Johnson seemingly picked up a knock, obviously enough to force Rodgers' hand and make a change; where Kolo Toure replaced the right back, whom however was playing centre back as aprt of a three man defence.
Valencia frustrated his foe Allen various times, making it difficult for the Welshman to track the Ecuadorian's scorching runs. He really proved himself and was, arguably up with De Gea, United's best player in the opening 35-40 minutes.
Just five minutes from half time, United doubled their lead. Van Gaal's men implanted their attacking philosophy with a fantastic passing sequence that eventually fell to Young on the left. The 29-year old whipped in a delivery that tickled off Van Persie's, then Skrtel's head to Mata whom was unmarked at the back post to guide a simple header past an awol Jones.
The replay did show that Mata was well offside, and Liverpool's, especially Jones' appeal was correct.
The half time whistle sounded to a raucous cheer from the United fans in attendance. Rooney's excellent slotted goal, plus Mata's header at the back post sealed Van Gaal's men a rather strange 2-0 lead at the break, considering Liverpool's positive input.

Juan Mata doubled United's lead five minutes from the break. Image: Purely Football
Mario Balotelli replaced Adam Lallana in an obvious attempt to claw back at least a goal at Old Trafford.
Evans' terrible backpass almost cost his die, when the energetic Sterling latched onto the ball and found himself one on one with De Gea. He took it round the Spaniard, but amazingly still couldn't finish as United's player of the month thwarted the 20-year old from pulling a much needed goal back for his side.
Valencia drove down the right, where he had been so successful and did what he does best; pulled a ball back into the box but Van Persie's attempt to use the pace of Valencia's cut-back and guide home past Jones just let him down as he slid it agonisingly wide.
Balotelli came tantalizingly close to pulling a goal back, but, understandingly, inform De Gea denied the Italian of his first goal of Liverpool's campaign. Jones initially thwarted Sterling of transcending to De Gea's five yard box but he managed to scrape it to Balotelli who slashed a powerful strike at goal but Spanish-born De Gea pounded away to sighs of Liverpool players.
A back-to-form Robin van Persie would seal an emphatic victory for United just under 20 minutes from time. Rooney's initial attempt to pick the Dutchman out was denied by Lovren, but his atrocious clearance fell straight to the path of wizard like Mata who dummied a shot, took a few extra strides just outside the box, and threaded van Persie in to a right angled open goal where the Dutchman made no mistake in dispatching past a frustrated Brad Jones.
Van Gaal brought 330k-per-week signing Falcao on to a vibrant roar from the home fans. Colombia's sensation up front made an immediate impact, as he scampered through the centre and slid a pass through to van Persie who was unfortunately for the Red Devils, offside.
De Gea yet again thwarted Balotelli who had been denied three times now. The Italian raced through United's sleepy defence and slid shot past De Gea but the Spaniard stuck a leg out to keep a clean sheet.
Full time; Manchester United 3-0 Liverpool. Van Gaal's men showed signs of real resurgence of form as they completed great passing sequences and applied deadly finishing to their game. For The Reds, its just more misery but Rodgers can take a positive that would be the chance creating. They could have scored two-three-four goals but were denied by the brilliance of De Gea every time.
Player Grades
Man of the Match: David De Gea (MUN, 9.6)
More:
Manchester United 3-0 Liverpool, As It Happened