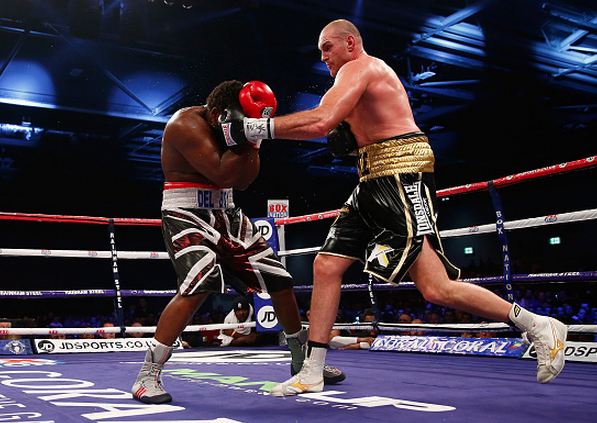 Fury smacked up Chisora with hardly any response from the Londoner. Image: Guardian Sport
Tyson Fury dismantled a sorry Dereck Chisora to the point trainer Don Charles retired his fighter, and unbeaten middleweight Billy Joe Saunders stayed on course for a world title conquest after beating Chris Eubank Jr. in a split decision.
The ExCel Arena was rocking ahead of the main event, Fury against Chisora in a WBO heavyweight title eliminator.
Fury won the first, using his jab to its full potential which seemed to bother Chisora and stop him driving into short range. The British-Irish born fighter emphatically scooped all three rounds in his favour, with completely one-sided southpaw boxing.
Chisora was unable to cleanly land any punches, as Fury's height, range proved dividend. Standing at a southpaw stance, the unbeaten fighter controlled the tempo and jabbed his way through each round.
Fury bust Chisora's eye and plotted a "mouse" under the right eye. Nothing new in the middle rounds, as boos bombarded the ExCel Arena due to such slow, one sided action. Not what heavyweight boxing is all about.
Fury switched back to orthodox, continuing to steam roll through the fight. Questions were being asked at ringside because Chisora was being absolutely pummelled.
Round 10, the fight was stopped by Don Charles as his Londoner fighter, drained out slumped to a fifth defeat to Fury who looked class throughout.
Fury then spoke of his ambitions to fight Wladimir Klitschko: "Wladimir Klitschko, I'm coming for you. No surrender!"
UNDERCARD
Billy Joe Saunders defeated Chris Eubank Jr on a split-decision to retain his British, Commonwealth and European titles. Early on, the champion made swift movement around the ring, using his jab effectively. It seemed as though Eubank's inexperience was showing, as the Brighton-born fighter had never been hit back nor been in the ring with class opposition like Saunders.
The commentators scored in favour of the champion during the first four, with Eubank earning the fifth with his slick work, and sharp uppercut that scored regularly. Saunders' counter punching was extremely effective however, which proved to make the fight nervously close.
Eubank Jr. took the majority of the latter rounds, settling into his own rhythm and landing more shots, in an attempt to hurt Saunders, however the champion walked through them and grinded on.
During the final two rounds, Eubank Jr. really began to take control, with crunching uppercuts that landed flush but yet again didn't seem to bother the champion. Saunders battled back in the final round to ensure he closed out any momentum his challenger brought to the table. He countered Eubank Jr. and established his jab, similar to the early rounds.
Two judges had it in favour of Saunders, with one for Eubank. Still the champion, the Londoner spoke of how he will go on to become world champion but will also require slightly more learning too.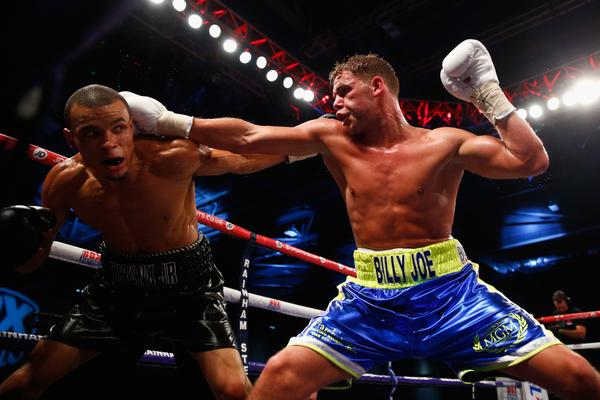 Saunders backs Eubank Jr. up in the corner and lands a flurry of punches. Image: Laceup Boxing
Earlier in the night, welterweight contender Frankie Gavin beat Bradley Skeete via. UD (116-112, 116-113, 116-113). However, unbeaten fighter Skeete landed big shots early and scored well. Gavin would then established his jab. The Birmingham-man's eye became awfully bruised due to one of Skeete's big hooks.
Barry Jones couldn't split the two, scoring the fight level towards the latter rounds. Both men gave it everything they had, knowing it was extremely close. Having said that, all three judges had it in favour of Gavin.