Weekend Round-Up
15-16 March 2014
BY NISAR KHAN
As the flag waved to begin the new F1 season, Liverpool dominated Manchester United at Old Trafford along with Ireland's Paris triumph as they clinched the Six Nations. Along with that, there was an epic UFC title fight and the start of the T20 World Cup - all in the space of one fantastic weekend of sporting action.
Football: Amazing Weekend Of Premier League Action, Messi Breaks Record
It was a terrific weekend in the Premier League that may have defined the title race. Manchester City saw off Hull City to get back to winning ways, while Aston Villa stunned the League leaders Chelsea at Villa Park. There was a domination at Old Trafford as Liverpool controlled Manchester United (FULL REPORT & ANALYSIS HERE) and Arsenal were the victors in the North London Derby.
With Chelsea falling to Aston Villa, the others in the title race seized the opportunity to bag three points, and they were done in emphatic fashion. Thomas Rosicky's stunned in the second minute of the North London Derby would be the lone and decisive goal in the game, while Steven Gerrard knocked two penalties past Manchester United at Old Trafford on a 'Super Sunday' in the Premier League.
In Barcelona's rout of Osasuna in the La Liga, Lionel Messi became Barcelona's all-time leading goalscorer with a whopping 370 goals on his tally.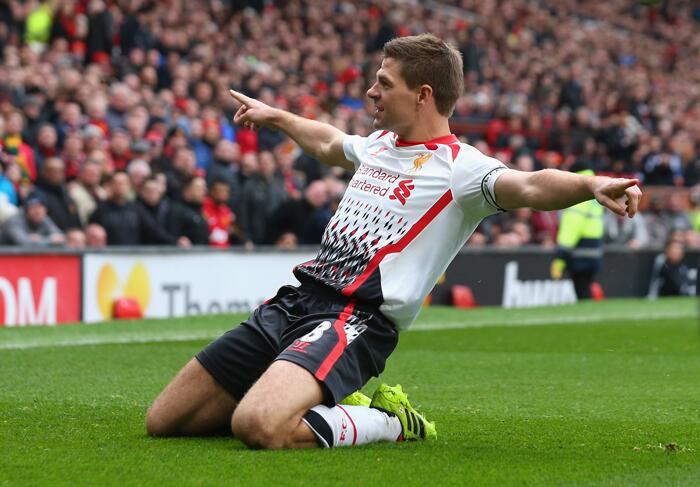 Steven Gerrard bagged a double at Old Trafford.

IMAGE COURTESY: PREMIERLEAGUE.COM
F1: Nico Rosberg Wins Grand Prix Down Under in Dramatic Season Opener
Nico Rosberg dominated in the first race of the 2014 season, as the fastest sport in the World headed down under to Melbourne.
Red Bull had a very problematic outing to start the season, with Sebastian Vettel having to withdraw from the race in the fifth lap due to engine problems, before Daniel Ricciardo was stripped of his second place for breaching fuel consumption rules.
While Nico Rosberg was on top in the race, Lewis Hamilton failed to finish, even though he qualified in pole position for the race. A loss of power after two laps for the Brit meant he was out of the race.
As a result of Australian Daniel Ricciardo's disqualification, McLaren secuered second and third place in the race with Kevin Magnussen doing better than Jenson Button.
The race really exemplified what the changes mean to the F1 season and the impact that they will have going forward. The drama is already pouring from just the first race.
Read the full race review and report here
»
Nico Rosberg dominated the race.

IMAGE COURTESY: GETTY IMAGES
Rugby: Six Nations Triumph for Ireland
Brian O'Driscoll ended his storied career on a high as he became a two-time Six Nations Champion after Ireland beat France in a thrilling culmination to the tournament.
England agonisingly fell short of the Championship, despite thumping Italy in Rome. They had to fight till the very last minute to clinch the title, and Ireland's legend Brian O'Driscoll ended his career on a high.
Yet again, rugby's popularity was supplied with a new-found surge from a dramatic Six Nations tournament.
Ireland embrace victory after winning the Six Nations 2014.

IMAGE COURTESY: SPORTINGLIFE
Boxing: Kell Brook, Danny Garcia Victorious
Kell Brook edged closer to a title shot as he saw off a tough Mexican by the name of Alvaro Robles in Liverpool, while Danny Garcia's win was much less affirmative with a controversial majority decision win.
In front of a watchful Liverpool crowd, Kell Brook finished Alvaro Robles in the eighth of a scheduled ten-round bout. Kell Brook's win may move him towards bigger opponents now with a significant win. Kell Brook had Robles in trouble going into the eighth, and eventually with more punishment, the opposition's corner threw in the towel to spare punishment aware of the inevitable loss.
Danny Garcia retained his Junior Welterweight World Champion strap defeating Marcio Herrera. Garcia was far from his best while Herrera brought a big case to the table in a great performance. The win was debatable to say the least.
Kell Brook defeated Alvaro Robles in the eighth round.

IMAGE COURTESY: GETTY IMAGES
UFC: Johny Hendricks Captures Vacant Welterweight Championship
Johny Hendricks prevailed in an epic main-event at the American Airlines Center in Dallas by defeating Robbie Lawler by way of unanimous decision.
Both Hendricks and Lawler threw hard shots at one another in compelling exchanges throughout the fight, and both would be in some sort of trouble then and again.
In the other fights, Tyron Woodley defeated Carlos Condit via injury, Saint-Preux impressed with a rare submission and Myles Jury was able to shut down Diego Sanchez.
Read the complete UFC 171 report with analysis and more here »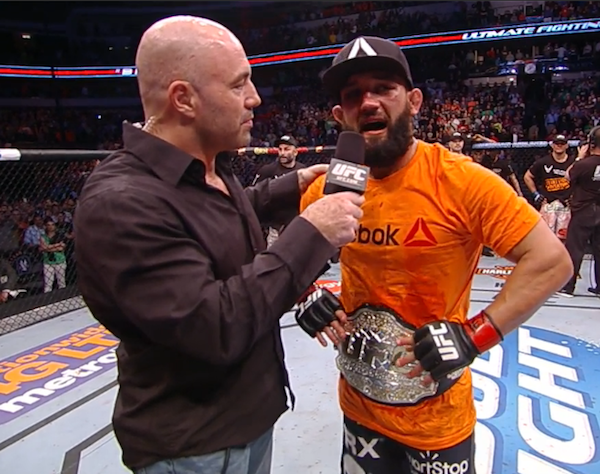 Cricket: Twenty20 World Cup Begins
The ICC Twenty20 Cricket World Cup kicked off in Bangladesh with two games from the group stages, and they were quite the landslide in manner of victories with Bangladesh winning by nine wickets while Nepal defeated Hong Kong with 80 runs to spare.
In the first game, World Cup hosts Bangladesh restricted Afghanistan to a mere total of 72 runs, bowling them out with around two overs remaining. It was a comfortable chase for Bangladesh as they took their time and only lost one wicket in their 12-over stint getting the 73 runs to win the match. Bangladesh fans were loud throughout as they piled in stadiums to watch their nation in action.
Nepal scored 149 runs and conceded 8 wickets in the opening innings of their encounter with cricketing newbies Hong Kong. The Chinese regional team were bowled out for 69 in 17 overs, as Nepal cruised to an 80-run victory.
Bangladesh won by 9 wickets.

IMAGE COURTESY: DECCAN CHRONICLE
What did you enjoy most from the weekend's action? Send us a Tweet, comment on our Facebook page or post your thoughts in the comment section at the bottom of this article. We value your opinions as the fans, so showcase them.
Another fantastic showcase of sports enjoyed over the weekend, the ones sports fans love to embrace.
- Sports for the Fans, by the Fans.
Connect With Us!