MANCHESTER UNITED 1 - 0 ARSENAL
van Persie 27'
KICK-OFF: Sunday 10 November 2013 at 4:10pm (GMT)
(GAMEWEEK 11) at Old Trafford, Manchester.
MANCHESTER - Robin van Persie scored for Manchester United as they defeated Arsenal to get within five points of the top spot.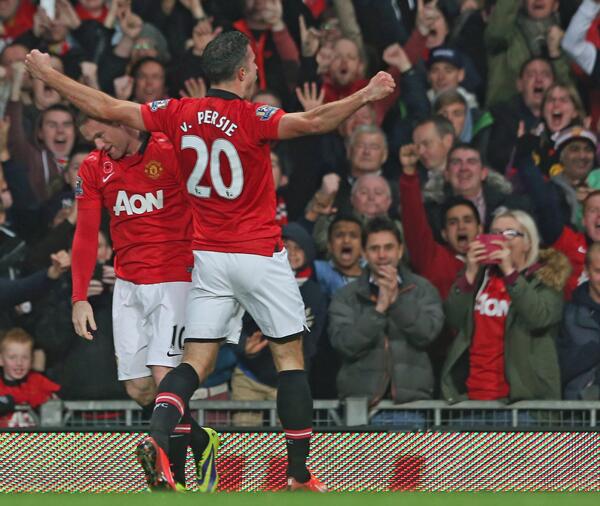 Robin van Persie celebrates after scoring a headed goal twenty-seven minutes in.
(Image Courtesy: PremierLeague.com)
SEE ALSO: Sunderland Triumph Over City For Second League Win

Robin van Persie scored after twenty seven minutes with a headed goal capitalizing on poor marking from the Gunners.
76,000 fans observed the silence for Remembrance Weekend prior to the game. When the whistle blew the Stadium immediately erupted as excitement epitomized.
Manchester United got things underway and had a corner just over one minute in. Former Arsenal man Robin van Persie's corner was headed out to safety.
The hosts dictated early possession with solid passing and getting near or around the box. Arsenal were staying firm too as they thwarted any attempts for an early outbreak.
After fifteen minutes of play, Manchester United were looking the better side, marginally. Some promising plays from Wayne Rooney, meanwhile on the other end Arsenal were being broken down. The game had drastically increased in terms of pace, as both teams put pressure on one another. The midfield was dominated with possession with neither establishing a threshold on the game to that point.
Robin van Persie headed his team into the lead of a corner, as he towered into the air and headed emphatically to score against his former club.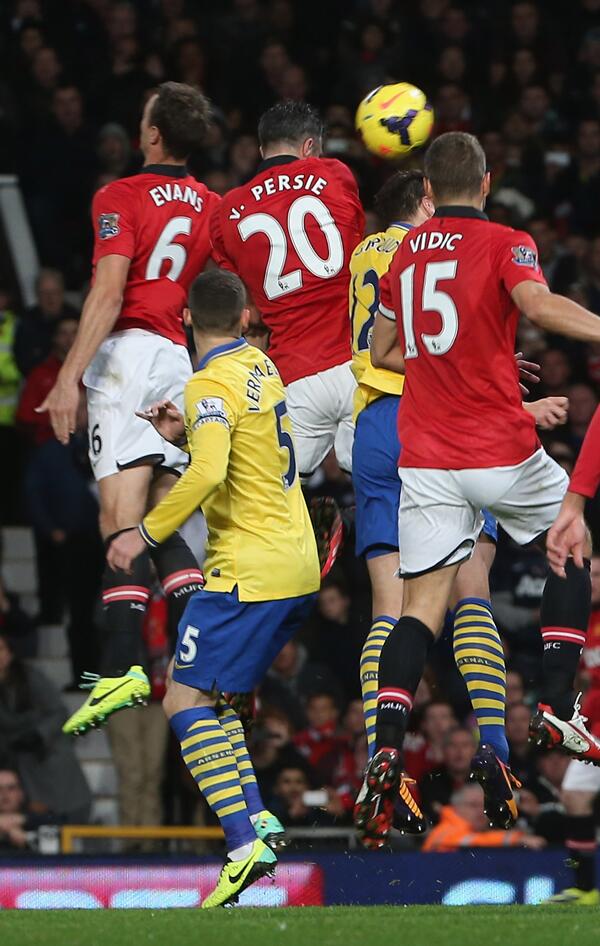 Robin van Persie heads Manchester
United into the lead.
(Image Courtesy PremierLeague.com)
Wojciech Szczęsny and Phil Jones clashed heads and the Arsenal keeper went down. Phil Jones was (unfairly) booked, but both players resumed playing after. Reminiscent to Lloris?
Then another head injury came right before half-time, as Nemanja Vidic was knocked out cold by his own player.
When the first half finished, Manchester United lead by one goal. United had more chances, but Arsenal had a big say in the game in terms of possession. A very open game with more to give
when play resumed.
As the second half got into full swing Arsenal's problem was becoming clear, there passing was not good enough. This took a tool on their trademark one-two plays.
Time continued to tick down but Arsenal could not find the equalizer, Manchester United were almost there.
It was a much more even encounter to end the game, but the full-time whistle blew with Manchester United being raised as the victors.
Its arguably David Moyes' biggest win in charge of the club. Arsenal only five points from the top now, are they back in the mix?